Classes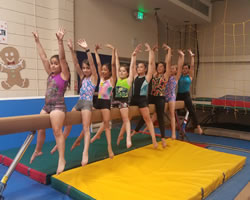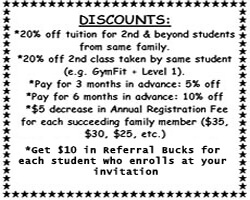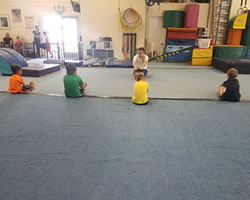 CLASS DESCRIPTIONS
TUMBLE TOTS for ages 1-3; a parent-child partner class to encourage toddler to focus on balancing, climbing, tumbling, swinging, bouncing and coordination skills. A loose class structure that is instructor-supervised. Specialized equipment includes cubes and ladders, incline mats, Super Swing, parachute, low beam, tunnel, mini rock wall, low bar, Sling Machine, mini-tramp, Tramp Track, etc.
KINDERGYM for ages 3-5; an instructor-led class with a target ratio of 8 students per teacher. Pre-schoolers focus on concentration, sharing, and social skills while building strength, balance and coordination in the context of a fun gymnastics class. Positive and controlled atmosphere using specialized pre-school equipment listed above and more.
BEGINNER GYMNASTICS for boys and girls age 5½ and up; target ratio of 8-9 students per teacher. Class learns progressions in gymnastics skills that increase strength, flexibility, agility, concentration, balance and confidence. Demanding and fun classes use a star reward system to designate levels and chart progress, following a modified USA Gymnastics progression. We have equipment for all standard Olympic events plus trampolines, Monkey Maze, Rope Climb, Super Swing, and other fun apparatus.
TEAM girls and Boys are trained in official USA Gymnastics Artistic routines. We participate in USA Gymnastics competitions throughout southern California.